Listings from TicketCity, eBay and Seat Geek are here
in our new mobile page!
Pocketlink: clq.li/bnets
Congratulations to the 2018 Super Bowl Champion New England Patriots!!!
Nets tickets and seating charts for Barclays Center and road games.
Next home game:
Boston Celtics at Brooklyn Nets Saturday, March 30th 6:00pm
If you want to go straight to our Nets eBay page here at I Scored Tickets, you can do that too!
You can check the Nets calendar for a list of games here.
Now you can search for the matchups you want to see with the Nets Matchups box.

We like choices and think you do too. Have a Great Time at the Game!
Brooklyn Nets at Los Angeles Lakers
Friday, Mar 22nd @ Staples Center

More Nets / Lakers matchups
You'll find good seats at great low prices from the trusted online giants below:
TicketCity
eBay

The Eastern Conference Nets enjoy home court advantage in Barclays Center located at 620 Atlantic Avenue in Brooklyn, New York 11217.
Thanks for visiting the Nets page
NEW YORK Events / BROADWAY TICKETS NATIONAL Tickets
23 Mar 2019 at 11:22am
List of shows around NEW YORK

NEWSical the Musical - New York - Monday, April 1st
22 Mar 2019 at 4:00am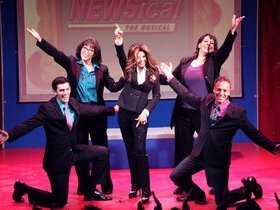 Show Time: 8:15 pm @ Theatre Row - The Kirk Theatre - New York, NY #NewsicalTheMusical #NewYork
...More from the East Rutherford, NY area
[top]
Visitors to the page today:
---