"I'm tired of hearing about money, money, money, money, money. I just want to play the game, drink Pepsi, wear Reebok"
-- Shaquille O'Neal
Rockets tickets and seating charts for Toyota Center and road games.
Next home game:
Los Angeles Clippers at Houston Rockets (Reduced Capacity, Social Distancing) Friday, May 14th 8:00pm
---
Listings from SeatGeek can be found below ↓!
You can check the Rockets 📅 calendar for a list of games and tickets listed on Ticket City.
SeatGeek Listings:
The listings below will take you to the secure SeatGeek Website
***
---
Image used with permission under creativecommons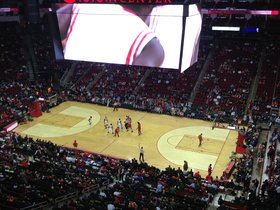 Friday, May 14th at Toyota Center
from: $90 to $767 avg: $228
Clippers at Rockets
---
More Seat Geek listings are here
in our new mobile page.
Now you can search for the matchups you want to see with the Rockets Matchups box.

We like choices and think you do too. Have a Great Time at the Game!
From TicketCity:
Houston Rockets at Portland Trail Blazers (Reduced Capacity, Social Distancing)
Monday, May 10th @ Moda Center

More Rockets / Distancing) matchups
The Western Conference Rockets enjoy home court advantage in Toyota Center located at 1510 Polk Street in Houston, Texas 77002.
Thanks for visiting the Rockets page
🏀 NBA Scoreboard
---